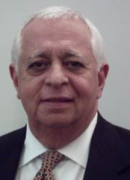 Emilio Alvarez CPA
Managing Partner - Audit Division, H&CO, LLP
Emilio F. Alvarez has over 40 years of experience serving clients in the construction industry throughout the United States. He is currently the Managing Partner of the Audit Division at H&CO, LLP, where he guides the overall strategic function and objectives of the Audit Team. In 1974 he founded EFA a national leader in construction and real estate accounting, specialized in helping construction companies throughout South Florida increase their profitability and success.


As Managing Partner, Emilio works regularly with more than 100 construction contractor clients to provide a wide range of attestation and tax services, financial reporting, and business counseling. Emilio's passion for helping individuals and businesses is supported by the firm's growth and unrivaled reputation in the South Florida area as well as the lasting relationships he has built. Over the span of his professional life, Emilio has been a reliable and trusted advisor to many contractors in every branch of the industry and to surety companies that have relied upon his services and opinions.


For over 40 years, Emilio has been the author and presenter of numerous seminars on the subject of construction accounting and auditing. He graduated from the University of Miami in 1970 with a Bachelor of Science degree in accounting. Before founding EFA in 1974, Emilio worked for Grant Thornton LLP, an international accounting, tax and business advisory organization He is a member of CICPAC (Construction Industry CPAs Consultant Association), CICPAC's Thought Leadership Committee, CFMA (Construction Financial Management Association), Board Member of the Miami Chapter for The Associated General Contractors of America (AGC), The AGC Tax and Financial Affairs Committee, American Institute of CPAs (AICPA) and Financial Counsel of the South Florida Associated General Contractors.