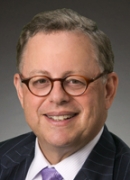 Jeff Korzenik
Chief Investment Strategist, Fifth Third Bank


Jeff Korzenik is chief investment strategist for Fifth Third Bank, where he is responsible for the Bank's overall client investment strategy.





For more than 30 years, Jeff has been recognized for his insight into the relationship between economics, markets and social trends. A regular guest on CNBC's "Squawk Box," Bloomberg and Fox Business, Jeff's writings on economics and public policy have been published in Barron's, Forbes, The Chicago Tribune and other periodicals. He has been quoted in publications including The New York Times and The Wall Street Journal. He was recently elected a Member of the Council on Criminal Justice for his work on the intersection of the justice system and the labor markets. Jeff's forthcoming book, "UNTAPPED TALENT: How Second Chance Hiring Works for Your Business and the Community," shares the business case and best practices for hiring people with criminal records and will be published by HarperCollins Leadership in early 2021. Jeff was invited to testify on Capitol Hill as an expert witness on the use of commodity indexes by pensions and other institutional investors.





Jeff earned both a bachelor's degree in economics anda certificate of proficiency in Near Eastern studies from Princeton University in Princeton, N.J.





Jeff serves as a trustee of the Harris Theater for Music and Dance and as a member of the Board of Advisors of the Peabody Essex Museum.