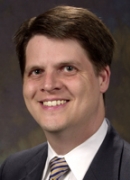 John D. Griffin CPA, CGMA
SVP, Controller, AARP
John Griffin, a licensed Certified Public Accountant and Chartered Global Management Accountant, has over thirty years of corporate financial management experience and is currently employed in Washington, DC as Senior Vice President and Controller of AARP, one of America's largest non-profit organizations. 

He previously served as Corporate Finance Director of the National Geographic Society, Controller of The Salvation Army's USA National Headquarters, auditor with the international public accounting firm Deloitte & Touche, and held several positions in banking. 

John is a member of the American Institute of CPAs and served on the AICPA Not-For-Profit Committee and is a member of the Financial Accounting Standard Board's Non-Profit Advisory Committee. He also is a member and served on the Board of Governors of the Greater Washington Society of CPAs as Board Chair, President, Nominations Committee Chair and Executive Committee member. He served on the Board of Directors of World Relief, a faith-based international relief and development agency serving the most vulnerable around the world, as Treasurer and Chair of the Audit Committee and Finance Committee. John also served as a member of the Audit Committee of the Architect of the Capitol. He now serves on the Board of Passion4Moms, a non-profit supporting young mothers. John is active in several Boy Scout leadership positions at the local and district levels and is an active Referee/Official with the Northern Virginia Swim League. 

He has been recognized in Smart CEO Magazine as one of Washington, DC's top 'Smart CPAs'. John has been presenting personal finance seminars at conferences and church communities for over 30 years. He formerly led his church's Financial Counseling Team for ten years. He received a Bachelor's Degree in Accounting from George Mason University in Fairfax, VA, has completed professional training in financial management, group communications, counseling, coaching, leadership, i6 Innovation and the AgL Leadership Program at Georgetown University. John, his wife and their three boys reside in Springfield, VA.